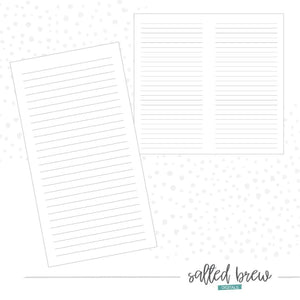 Traveler's Notebook Lined Paper Insert - FREEBIE
Regular price $ 0.00 USD Sale
Enjoy a lined paper freebie - perfectly sized to add to your
Scripture Study Kits
 or your favorite traveler's notebook sized booklets!
//////////////////////
TIPS FOR PRINTING:
If printing from home and can print double sided, choose the booklet file. Choose these settings while printing: flip on short edge, 100% (instead of fill to page), and print double sided. This will give you the traveler's notebook size as designed.
If sending to a local printer, double check if they prefer the single page format or booklet file.
//////////////////////
Note: This product is a digital download ready for you to print at home or at your local print shop!
//////////////////////
Product Details:
(1) PDF file - ready for printing